No More Wasted Ammo! 🎯
"It's usually not the gun. Even inexpensive guns shoot pretty well these days", says Jerry Charles Miculek Jr, an American professional speed and competition shooter known for his many world records. "The scope may be loose or damaged, but pretty much any modern bolt-action rifle will shoot well enough. You should make sure your gun is sighted-in before you go hunting. That should never be an excuse for missing an animal."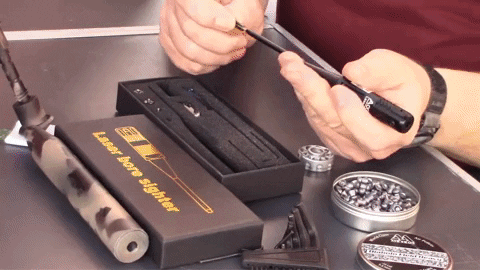 ✔️ Maximum Accuracy - Our Laser Boresighter improves accuracy and stability, longer sighting range, allows you to quickly and accurately target any scene or object.
✔️ 5 Different Adapters Included - Suitable for all firearms from .20 to .50 caliber, including airsoft! Great for rifles, pistols, and even shotguns.
✔️ Easy To Use - Simply choose the caliber adapter and place the laser bore sight unit in the muzzle.
✔️ Adjustable - It is windage and elevation adjustable, and you can also quickly and accurately reset any sights!
"...I was really impressed on how easy I was able to sight my laser grip and red dot sight with this boresighter laser."
🛡️ 30 DAY RISK-FREE GUARANTEE
We have an iron-clad risk-free guarantee.
 If you aren't satisfied with your products for any reason, you have up to 30 days after receiving your product to contact us and ask for a full refund.
As a quick bore sighter, and preliminary option to actual zeroing in a rifle this does its job. A bore sighter is not meant to be the final adjustment to the scope and rifle. It is a way to get closer before people goes out to the range so they are not wasting ammunition on trying to get more pricise shot. So for what it is, this is a great product and I recommend it to my friends all the time. BTW, it does come with nice box which makes it a great birthday gift
This works great for helping site in scopes. It gets you a lot closer to start with and save time and ammo when getting the scope right on the bulls eye. Great product for the money, hard to beat, especially when it works pretty good with all the calibers.
What I like the best is the simplicity of the product.. I've been using bore sights for yrs.. and I've seen some pretty... umm.. strange gadgets! When I saw the price I had to take advantage of it.. plus 6 batteries total and a yr warranty!.. no brained
Nice product works as advertised. The visible range of the laser is great.
Better than expected. Sent with the option of gauge. 177 (4.5). Will use in my carbines air also. The collimator came already calibrated.